Blessed to be a blessing: Philip's story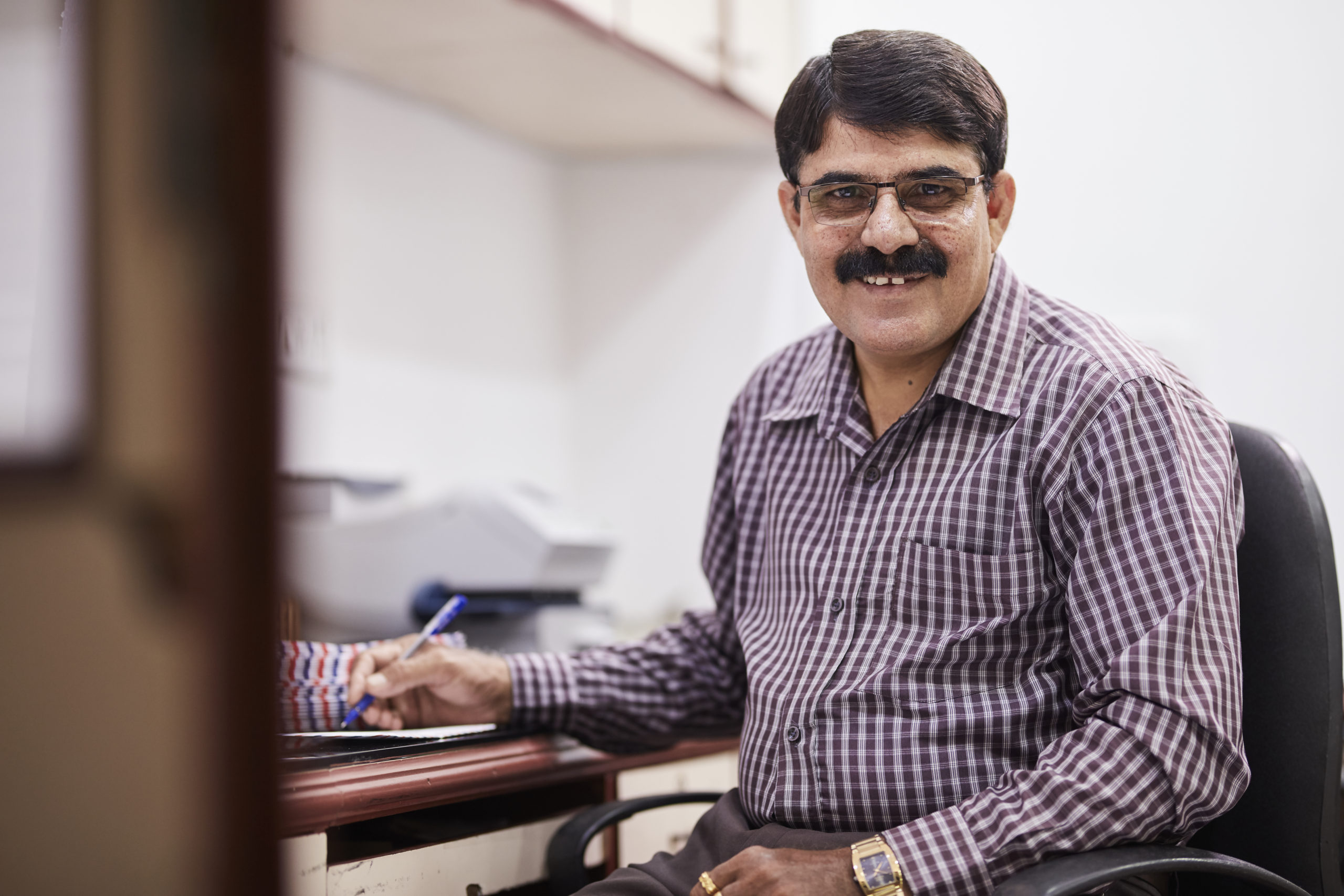 "When you're young and carefree, you don't often think about what the future holds. You just go with the flow, without really thinking through the consequences of your action. But you need to be focused to get ahead in life, you need a lofty vision to keep you grounded. You girls have so many opportunities. Be sure to make the best use of it."
The girls at the Bethany Hostel have heard this counsel very often from Philip Seth's lips, but they never tire of hearing his heartfelt advice, for they know he is speaking from his own experience.
As a fifteen-year-old, Philip gave up his education, right after his tenth grade to care for his sick dad. "My father was on his way to the Christian Medical College to meet my sister who was pursuing her nursing there, when he met with a gruesome accident," recalls Philip. "His left side was completely fractured, many of his bones shattered. He could not move around or even feed himself with ease. Someone needed to stay behind and look after him."
With his father's income gone, his mother became the sole breadwinner, supporting a large family of seven. "Keeping five kids in school and college wasn't easy," he says. "My older siblings were already in college, so it did not make sense for them to discontinue their studies. After me came two girls and they were too young to work. So, I seemed to be the best person to care for dad. I meant to work for a few months, but didn't really understand the implications of discontinuing my studies."
Philip began selling sweets that he made at home. "My customers were just my friends," he says. "I couldn't earn much." It was then that he received what he thought was a lucrative deal—the opportunity to work at an arrack shop selling local liquor.
"The salary was much higher than what I was making from selling sweets. I was only 15, and I was excited at the prospect of making so much money and supporting my family." What came next was only too predictable. Surrounded by people drinking liquor, it wasn't long before Philip began drinking too.
"After that there was no looking back," he rues. "The next 13 years are pretty much a blur. I began working at the Taj Group of Hotels as a waiter. I was making enough money but that only fueled my appetite for more liquor. I was literally living in anticipation of my next drink."
It was during this time that Philip's mother began working at CMCT. She confided her worries to Dr. Colleen, who counseled Philip to go to a deaddiction center.
"I was moved by her genuine concern and desire to see me at a better place, but I just could not think of giving up alcohol for good. I felt I simply could not do it. I was not even sure I wanted to do it! The CMCT family must have been praying for me though, because eventually, one day I somehow found myself at a gospel meeting. That night the preacher called out my name and talked about the struggles I was going through. For the first time, I experienced Christ like never before and committed my life to Him. I wanted to give up alcohol and called up Dr. Colleen. I told her I was willing to go to the rehabilitation center. Within ten minutes, staff from Bethany Healthcare was at the door to pick me up—they didn't want me changing my mind again!"
Philip was taken to one of India's best deaddiction centers—the TT. Ranganathan Clinical Research Foundation. "The entire cost came to over Rs. 7000, which was quite a large amount back in 1998. CMCT bore the entire expense of the treatment," says Philip.
Philip came out of the rehab center after a month, determined not to go back to drinking. "I did flounder once, but I immediately checked myself back into the de-addiction center and stayed a week," he says. When his mother, who was working as an assistant to Dr. Colleen passed away, Philip was asked if he would consider joining CMCT.
Today, he works in the External Affairs department. "My responsibilities revolve around posting parcels, carrying out various administrative tasks and finishing various errands," says Philip. "It's a humble job. Perhaps by the world's standards, I'm not doing much. Sometimes, when I look at others—my friends and own siblings— who have been more successful than me, I feel a bit sad about the bad choices I made. But then I remember the many ways in which God has blessed me. I am still alive today. To me, that is the biggest miracle. What if I had not given up drinking? Where would I be?"
Even after he was saved and gave up drinking, Philip still struggled with his smoking habit. He often worried that it was unsuited for someone working in a ministry. "Dr. Colleen and several other staff members were extremely supportive," says Philip. "Whenever she travelled abroad, Dr. Colleen would always remember me and get me anti-smoking aids. With her sustained support and non-judgmental concern, I was able to quit smoking too about 12 years back."
Looking back, Philip is deeply conscious of God's hand on him. "I can see God's hand of protection and provision at every step. He has established His plan in my life despite any failings from my end. I know that I am where God wants me to be. I am so grateful for the spiritual nurture that I get at CMCT. Christ transformed me and through CMCT, I am able to help in transforming others. That is the ultimate job satisfaction that anybody can ask for."