In full bloom: Venkat's story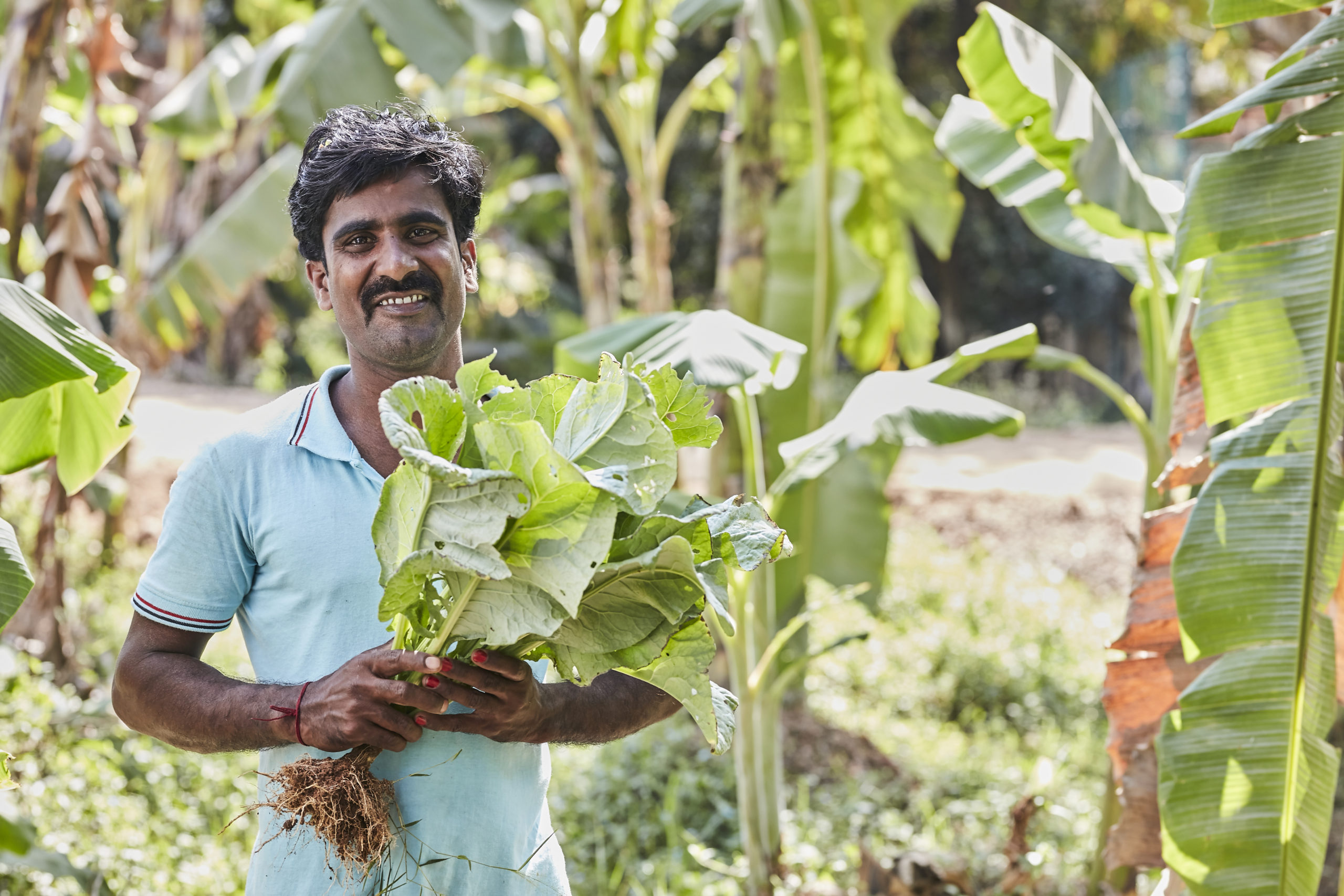 Venkat wakes up early every morning to take as troll around the farm. It is however not a leisure walk. His keen eyes take in everything, and he formulates his plan of action for the day. He spots a crack in a fence that has been built to protect the saplings. Quickly, he fixes it before proceeding to examine the other saplings.
Satisfied that nothing is amiss, he calls out to his wife, Venkalakshmi. School-time is fast approaching and the couple will need to put in a call to their children before they leave forschool. The children—Karthik and Radhika—live with Venkat's parents in the remote village of KK Rajapuram in Sreekakulam District, Andhra Pradesh.
"We miss our children a lot," says Lakshmi. "But we have very few opportunities in our village. By working here, we are able to send money to our children and parents and ensure that they lead a comfortable life. We speak to them three times every day and they visit us during vacations."
Venkat and Venkalakshmi come from a family of weavers. The entire family of 6—four adults and two children— needed to work to put food on the table. They would make money only on the days that they were able to find work. It was a precarious life and Venkat often worried about his children's future. He himself had studied until tenth grade, unlike many others from his village, who had dropped out of school in lower grades. "I wanted them to study well, do much better than me. I wanted to send them to college."
But when making ends meet was proving to be such a huge task in itself, how could he hope for a more secure future?
A chance meeting with a staff member from CMCT helped change the course of Venkat's life. "When I understood the work that CMCT does, I requested them to help me with a job. He (the staff member) assured me that he would keep me in mind. Sure enough, within less than six months, he got back to me regarding a vacancy at a farm. I did not know anything about farming, but it seemed like a great opportunity as I would be provided a salary, accommodation and training. I was brought to a farm at Chinnakuppam and got hands on experience as well as theoretical training. Since I had completed my tenth, the staff procured books for me and encouraged me to read up on agriculture."
After two years at the Chinnakuppam site, Venkat was offered a supervisory role at the Padappai farm, where he now draws a salary of Rs. 15,000, besides getting free accommodation. His wife, along with two other workers, get daily wages as well as ration. His job allows him to provide a better future for his children and to support his aging parents.
"We are busy from morning to night," says Venkat. "But I would not say that the job is stressful because I love what I am doing. I have never felt that this is just another job. I look after the land like it belongs to me. CMCT trusts me and they always take my views into consideration. My superiors are extremely kind and loving. Whenever I face a difficulty, they immediately reach out to help.Though I am a staunch Hindu and most of the staff members are Christian,they've never made me feel like an outsider. They treat me like family.
But what I love the most about my job is that the vegetables we grow here helps other needy people. It feeds the children at Bethany school, at the girls' hostel and the soup kitchen. It reminds me that my efforts are not in vain. All the lives that are blessed by my hard work will also continue to bloom."